Best Guitar Software For PC Review:
Read the review below to find some of the best guitar software available for guitarists. We will be adding more and more reviews. Keep checking back to find out more about some of the best music software around. Below you will find a Guitar pro 6 and also an Amplitube 3 review to help you with your guitar playing.
With technological advancements of computers and digital software it has provided people with some great new ways to learn, play, record and write music. There are many excellent pieces of software for guitarists and we have tested out a few of them. Below you will find helpful information on software for Mac and PC that will help you with your guitar playing.
Best Guitar Software For PC
Guitar Pro has been around for a while now and the latest version saw some huge improvements. Guitar Pro is a tablature editing software which allows you to import guitar tablature (tabs) into the program. You can edit, playback, re-arrange and basically do anything you like with.
This software is a must-have for guitarists of any skill level, you can do almost everything that a guitarist needs to do with Guitar Pro. This version has an updated sound bank with realistic playback of all instruments including acoustic and electric guitar, bass, drums, piano and many more. Of course because this is software that's primary focus is guitar, that is what it excels in. However it still does a great job handling other instruments and you can create some great sounding backing tracks with it.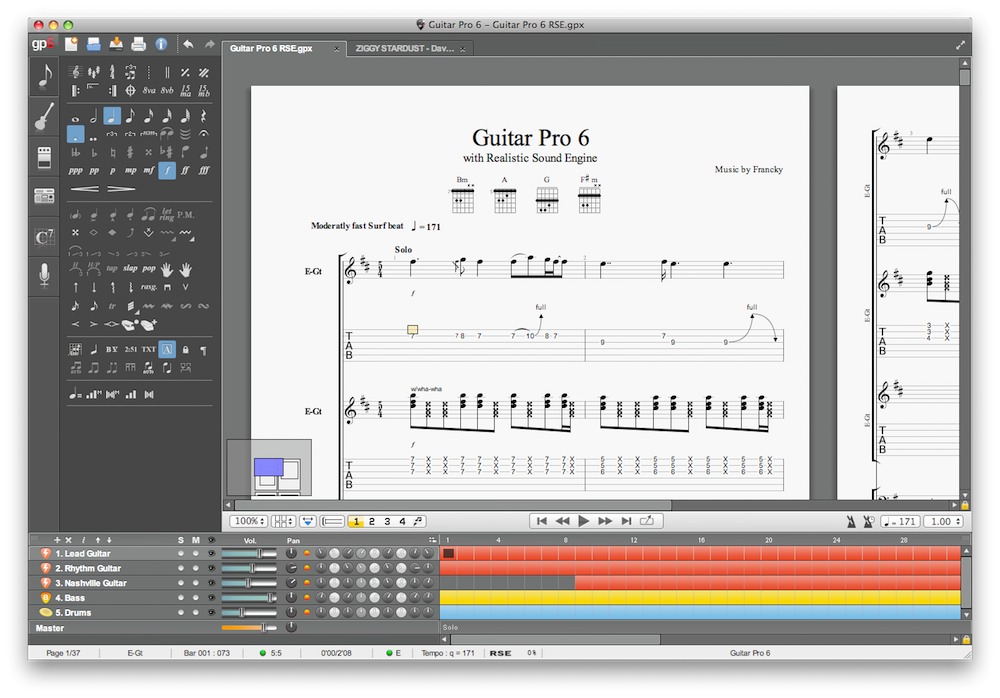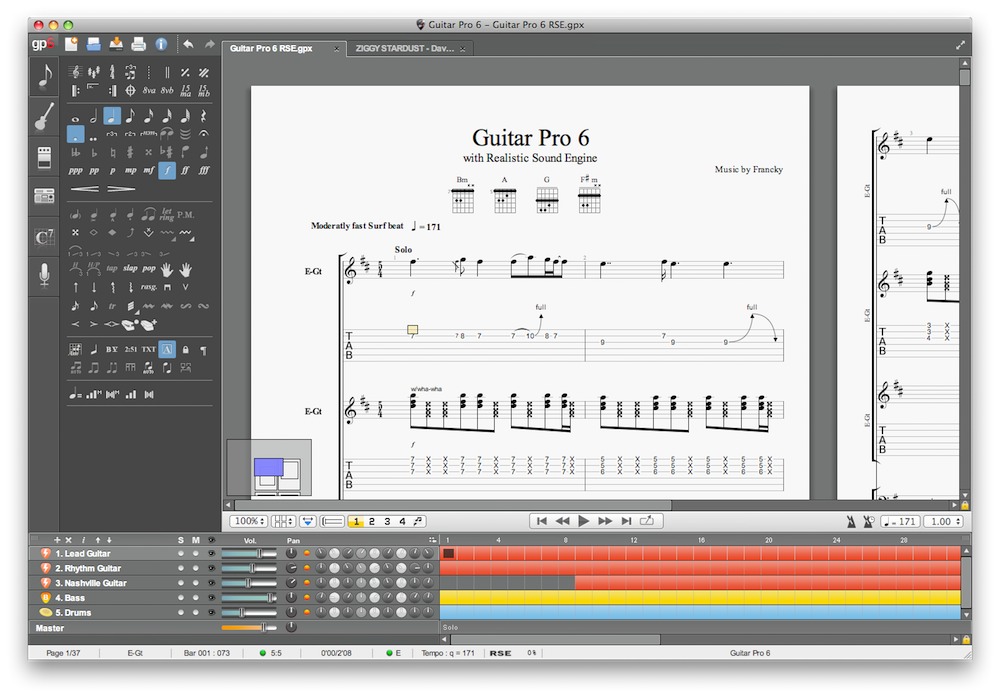 There are thousands of free tabs available online for you to use within Guitar Pro and that is just the start. If you want to learn new skills and guitar techniques, Guitar Pro 6
 is designed to enable you to do just that. You can select a portion of a song that you are stuck with and set it on repeat. You can even slow the tempo of the track down and have it gradually increase on each loop, this is called speed training.
The sound engine is really easy to use and customize. If you have ever used anything like Guitar Rig or Amplitube then you will find it quite similar. It allows you to pick out various amps, sounds and effects as well as distortion pedals. You can even do some mixing and create quite a good sound.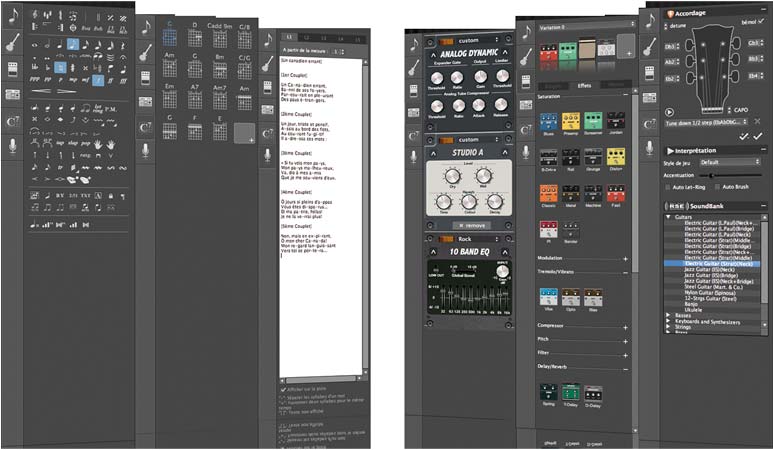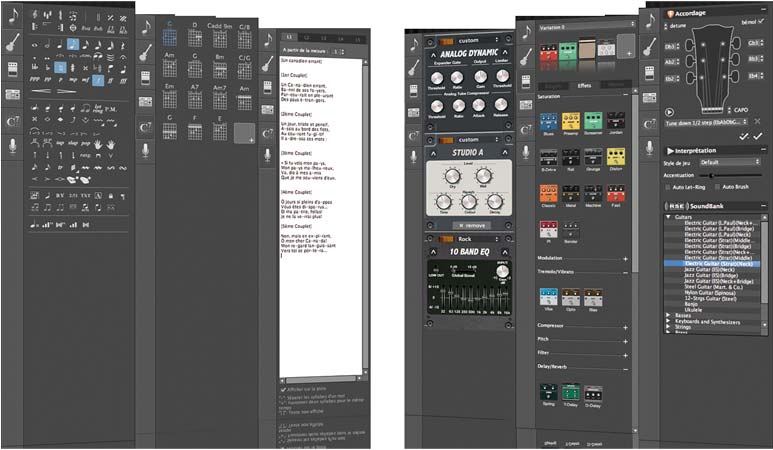 If you are not familiar with notation software then Guitar Pro can take a little getting used to. It is well worth the effort because once you get to know it better the more it can help you learn and develop your skills as a guitarist. If you are familiar with notation software then you will find Guitar Pro very easy to grasp and understand. You will find all of the tools and techniques that are needed to edit and compose guitar music and backing tracks. As well as being excellent for guitar tablature, it also handles notation very well, though not as well as Sibelius which is more designed for notation.
Over all you will not be disappointed with Guitar Pro, it is a great piece of software and any guitarist will surely benefit from using it. It does exactly what it is designed for and it does it really well plus much more. We highly recommend Guitar Pro 6 and think that is is the best guitar software available for guitarists.
Guitar Pro 6
 is available for all operating systems and even has apps for mobile devices and tablets, you can pretty much get it anywhere which is great.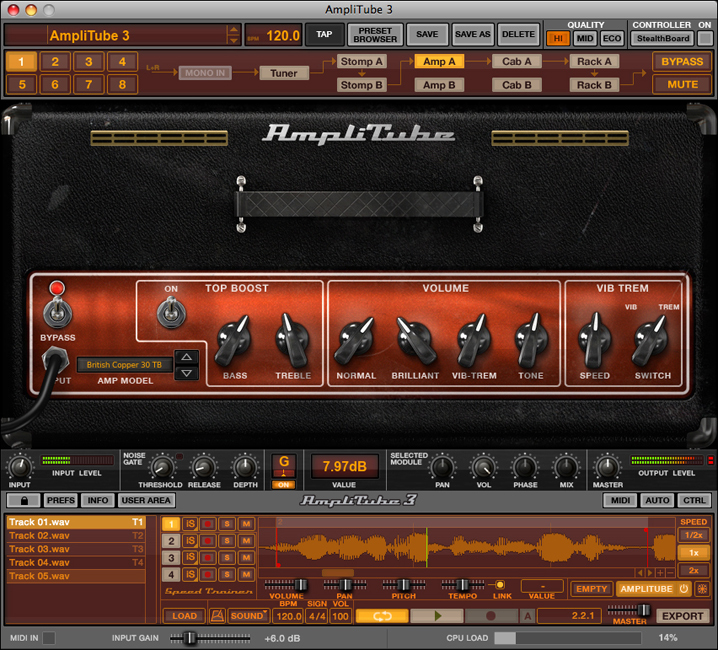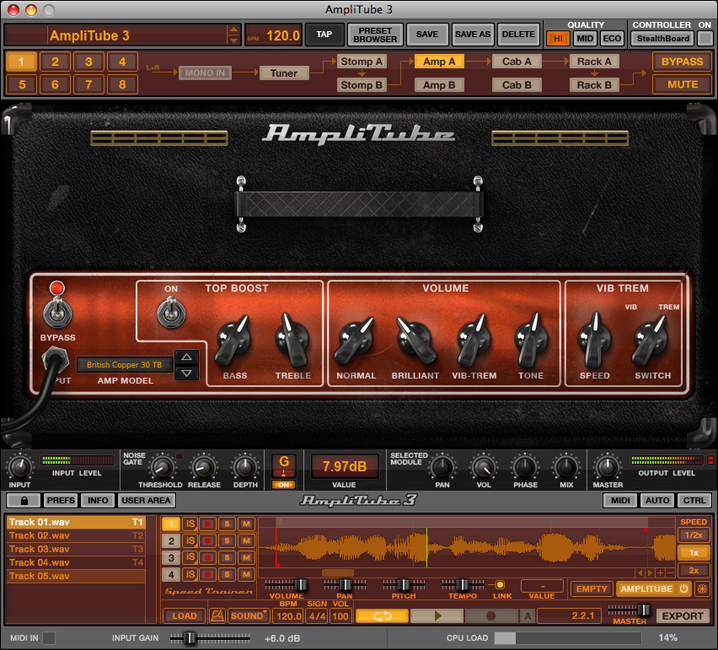 Best Guitar Software: Amplitube 3 Review
Amplitube 3 is a guitar and bass amp and effects modeling software. Read this Amplitube 3 Review to find out all the information you need to know about one of the best guitar amp modeling software around. Amplitube 3 allows you to connect your guitar into a computer (PC and Mac), and dial in your favourite amp tones and effects. Amplitube is packed with many great extra features such as a metronome, tuner, speed trainer and even a four track recorder.
The package includes over 160 vintage and modern amps, sounds and effects with the option of adding more if that isn't enough four you. The customization is basically endless, you get hundreds of preset sounds which allow you to just select one and start playing. Or if you like to tweak the sounds to perfection you can mix and match everything.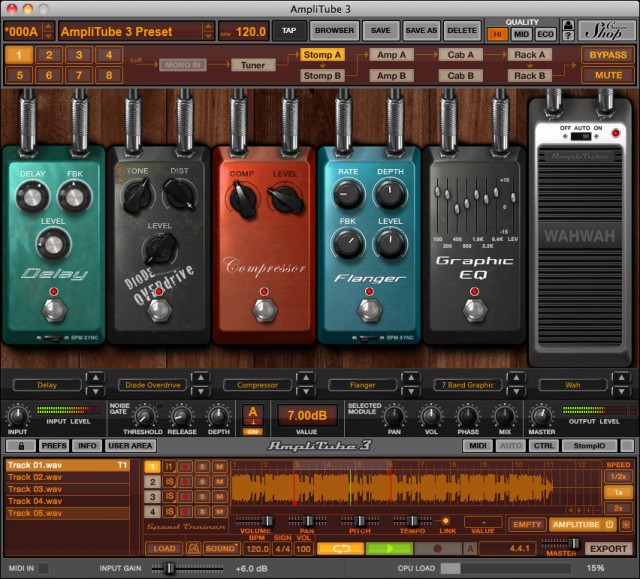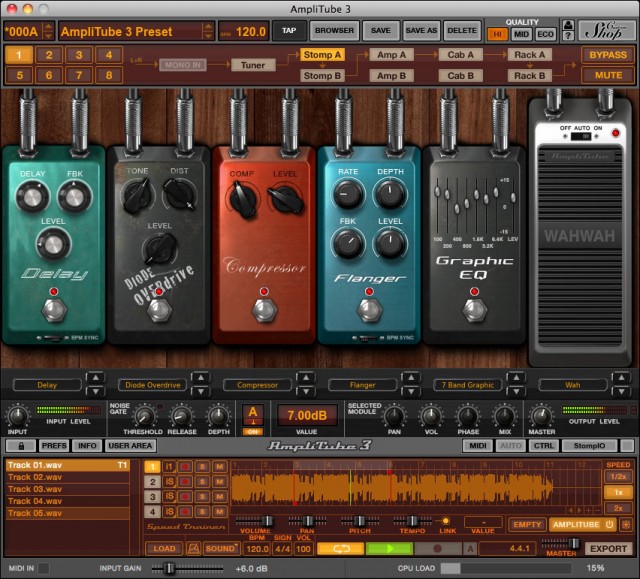 If you like to record and are using Pro tools, Logic, Cubase or any DAW, Amplitube integrates seamlessly into the workflow of these programs. A little secret bonus to get even better sound from Amplitube is to disable the cabinet and use only the head.
This way you can route it to your physical amplifier and dial in some special tones. This way the program acts as a fully interchangeable guitar amp head and your amplifier works as the cabinet. You can then record the output of your amplifier and get some really great amp tones.
That is just one way that you can use Amplitube 3. If you are a live performer it works really well to help you quickly and easily add and switch to various effects with its midi controls.
There are many guitar amp VST's on the market and most of them are great, however Amplitube combines ease of use with excellent sounds and massive features for a reasonable price. This is why we recommend Amplitube 3 as being the best guitar software available for guitarists wanting more ways to get a better tone out of their instrument.
With this guitar software you get hundreds of great amplifiers plus all of the extra features. We hope this Amplitube 3 review has helped you, keep up to date with all the latest reviews by signing up to our newsletter here.
IK Multimedia AmpliTube 3 guitar and bass amp and effects modeling software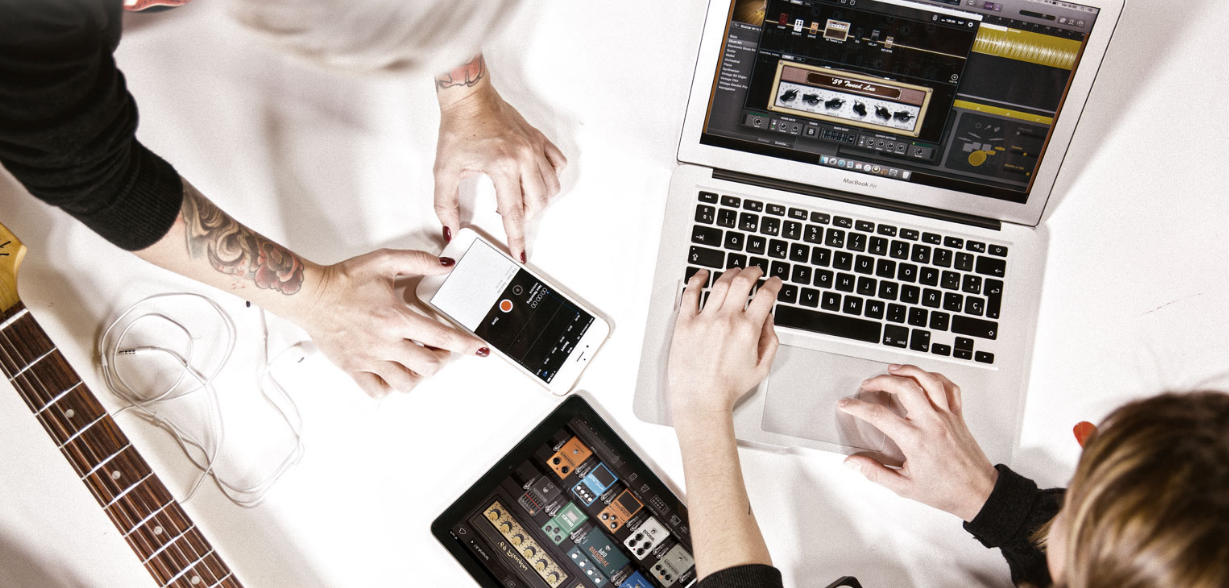 This is one of the best guitar amp modeling software around today Bias FX has a wide range of features and effects which just sound great. You can also customize the to your liking and even get access to thousands of other sounds and tones that other users have made through the tone cloud. Bias FX is very powerful and available for PC, MAC and also as a mobile app.
With Bias FX you get great sound with a lot of customization, I would highly recommend this to anyone looking to improve their sound and get better recordings.