Drones Songbook
Want to play 2016 best rock album? Read this review on the Hal Leonard note for note Drones songbook. Learn to play any song from the album Drones by Muse.
The award winning band Muse have released their latest album Drones. The album was recorded between October 2014 and April 2015 and was co-produced by Mutt Lange. Drones is a concept album on modern warfare and dehumanization featuring songs such as Dead Inside and Psycho. The album has also recently scored Muse best rock album at the 2016 Grammy Awards.
Check out the new Aftermath Music Video
What's Inside:
Muse have always released official songbooks for all of their previous albums and this one is no different. The songbook is released through Hal Leonard, it is soft cover, contains all of the artwork for the album and is broken down song by song with guitar tablature and standard notation. The book also contains some extra material such as bass tablature, piano and vocal sheet music for some of the songs that are less guitar heavy such as "Mercy" which begins with piano and bass.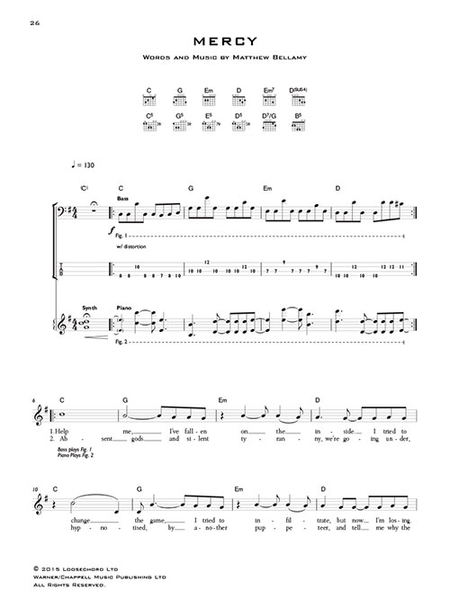 The books layout is very clean and professional as you can expect from a Hal Leonard release. Every song is easy to read and learn. All chords and keys are provided so you can easily follow along just strumming chords if you are not at the skill level to play the song perfectly.
A lot of the time with free tablature, especially for guitar you don't get any key signatures, chords or any sense of how the song was written. This makes understanding the song very difficult if you know how to read music.
The Drones songbook has all of the guitar tablature and notation correctly formatted and the tablature is perfect. Hal Leonard hires some of the best transcribers in the world to write out the music note for note and you clearly get this with the Drones songbook.
Conclusion
Over all there aren't any bad points to this book, If there was to be one criticism it would be that there are no backing tracks provided, but this is most likely due to licensing and copyright laws that would cost too much to get around.
If you are a fan of Muse and are wanting to learn how to play their latest songs, this is the best you will get. The price is really reasonable too.
Get your copy of Drones Songbook Today.