The Best Distortion Pedals of 2017
Distortion is a wild beast of a sound, many guitarists have searched high and low for the best possible distortion tone for their preference. We have come up with a list of some of the best distortion pedals that you can not go wrong with. A lot of these pedals have been widely known as being popular so a lot of this information may not be new to some of you, however if you are looking for a good place to start with distortion then you have come to the right place. Read more to find some of the top distortion pedals of 2016.
The Boss MD-2 Mega Distortion is a great modern pedal. Boss state that it has been created with the styles and requirements of modern metal in mind however there are other pedals that best suit this type of style. There is a wide range of control with the MD-2 producing great warm tones, as well as a super heavy low end. As already stated you get great control over your sound with the MD-2, it is best suited as a multi purpose pedal which will work well in most situations. The extra gain dial allows you to crank it up and blend with the distortion tones. Read a more in depth review of the Boss MD-2 Mega Distortion here.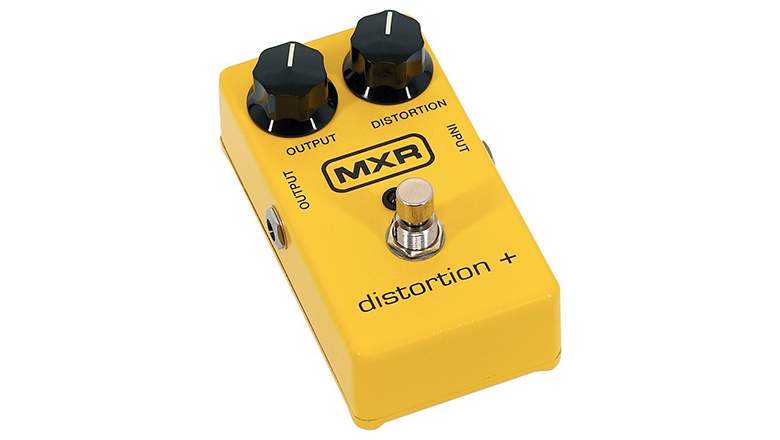 The MXR M104 Distortion + looks very basic but it is a great pedal if you are into 70's classic rock. It has a warm almost overdrive sounding tone so it is not the heaviest sounding distortion pedal around. The MXR M104 only has two dials – output and distortion which gives surprisingly quite a bit of control although not as much as other distortions. If you are looking to get the classic sound of soft clipping distortion and great sustain then you should give this  try. MXR are a good brand and have released a range of great pedals such as the M75 super distortion and the M116 Metal distortion pedal. If this doesn't quite fit your needs but you like the simplicity of the pedal, it could be worth checking those out as well.