Check Out The Best USB Mic For Rap Vocals Reviewed Here
The best thing about using USB microphones for recording is that they simply plug in and work. Most will even plug directly into your iPad or iPhone as well. This is what makes them so easy to use, you don't need a good quality computer, pre-amp or recording interface for these mics to work. Just plug them in.Perfect for small homes or home studios.
Best Rap Microphone
For those of you that just want to check out the best USB mics for singing and rapping, here is a quick list of my top favorites for rap vocals. Click each title to view more info.
Before We Begin the Review
Hi, my name is Joe, I am a musician and have a wide extensive knowledge about music, instruments and music products. I aim to give you the best advice when it comes to my reviews to help you save some cash while purchasing quality equipment. Read below as I review the best USB mic for rap vocals, I have also reviewed some other USB rap mics that I recommend you check out as well.
Recording can be an expensive thing to get into, there are also so many things you need to think about and learn in order to get the results you want. Recording rap vocals is no different to any other voice type or instrument. It takes dedication to learn the skills needed to get a quality recording, as well as having the right tools for the job.
I'll be completely honest here, in order to get the best possible sounding recording, a USB rap microphone is not your best option. However for someone who is just starting out with a limited budget, or someone who wants a quick and easy way to get your rap recorded, then they are a perfectly good option. Don't get me wrong, USB microphones are nowhere near as bad as recording through your iPhone. The technology is rapidly improving and you will get a very good sounding recording. But if you want to step up to the pro level, I recommend you take a look at my article on recording rap vocals to see just what you need.
RØDE NT-USB Microphone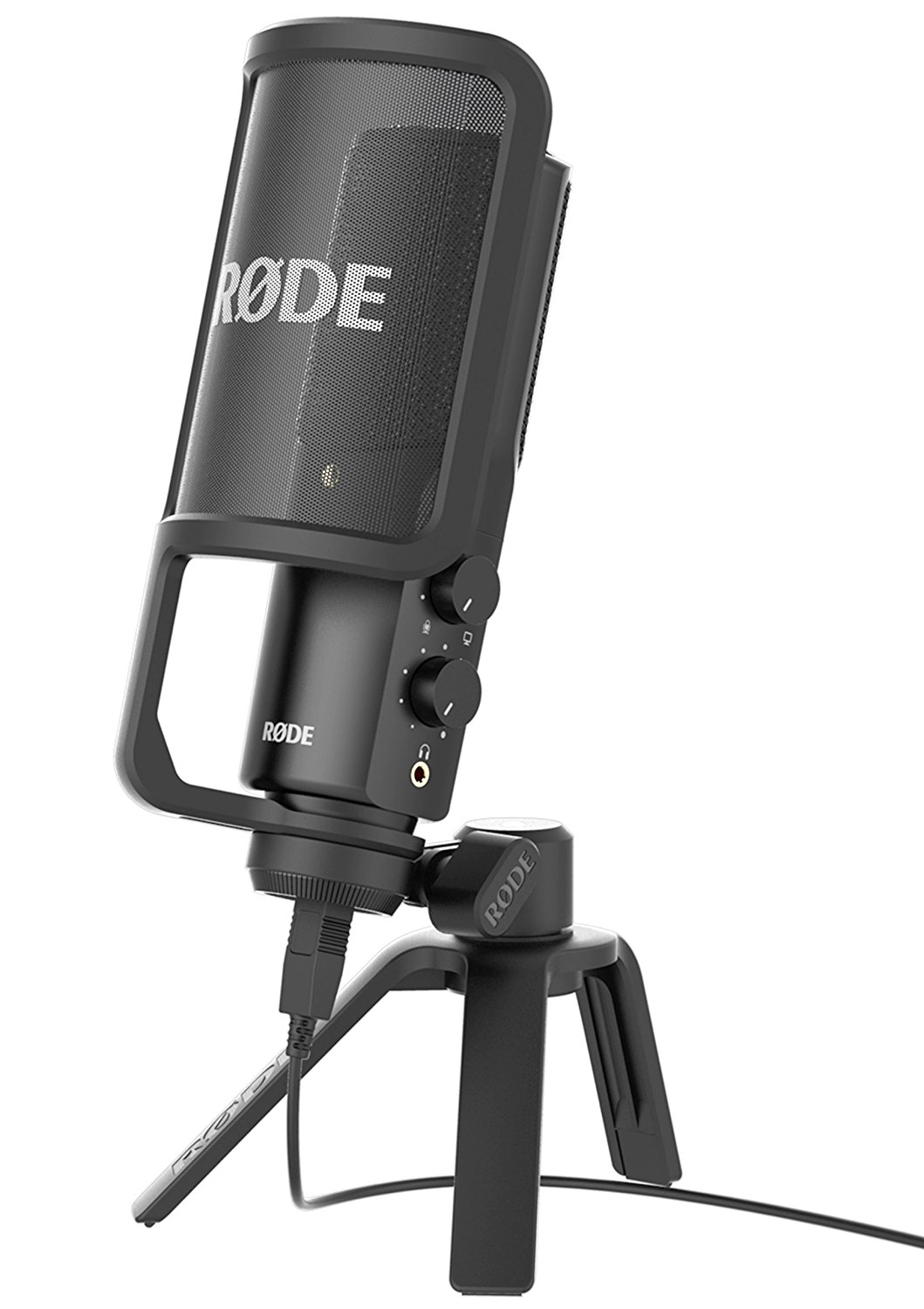 If you are new to microphones, RØDE is a very popular mic brand. Commonly known for their camera and video mics, RØDE is growing bigger, releasing some new and innovative ways to capture audio. The RØDE NT-USB is no different. This is the microphone that I recommend as being the best USB microphone for rapping. Full of features such as a gain knob, which allows you to control the level of the input signal. It also includes a headphone jack so you can plug in your headphones directly into the mic allowing for quick and easy monitoring. This is great as it allows you to hear the recording as you are making it.
There are added accessories which I like such as a custom and stylish pop filter which is almost a must-have for recording rap vocals. It helps to cut out any plosives which are the strong 'P's, 'T's & 'B's etc that can come out sounding harsh on some microphones.
You also get a Tripod stand so that you can sit the mic on a desk and record.
The RØDE NT-USB includes:
Gain control knob
Headphone input jack
Custom pop filter
Custom tripod stand
Compatible with iPad
Included storage pouch and USB cable
The RØDE NT-USB also works on both windows and Mac computers. It is compatible with any recording software including GarageBand, Audacity, Logic, Ableton, FL Studio and many more. Running it on an iPad, you can also try out the RØDE Rec App which gives you some great editing tools along with making it easier for you to record on your iPad.
As for iPhone or iPad Touch, well it does technically work on them, however, it will drain the batteries really quick, plus you would need an additional adapter. Although I wouldn't recommend it be used with these devices.
This is a great microphone, although not the cheapest around if you are after something that you can rely on to give you a great sound then I highly recommend you take a look at the RØDE NT-USB. It sounds very clear and warm and suits both male and female voice types as well as any vocal range thanks to its wide frequency response of 20Hz-20kHz. This is simply an easy to use, great sounding microphone that delivers the results you want. Check out the RØDE NT-USB here.
Below are some of my other favorite USB microphones, each of them are great and will help you get the results you are after.
 Apogee MiC – Affordable Quality Rap Mic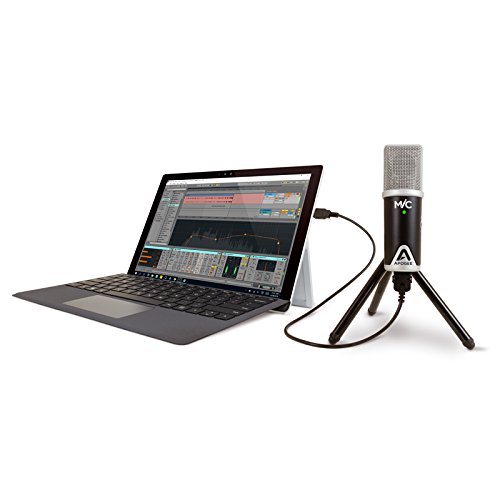 The Apogee MiC is second on my list of USB microphones, simply because it is a great mic. There are two options to choose from for this mic depending on what devices you are planning on recording with:
MiC for iPhone, iPad, and Mac
MiC for Mac and Windows
The second option is cheaper if you don't need to record to an iPad or iPhone, but if you are a solid Mac user then it could be worth going with the first option. It is a simple mic but this condenser microphone packs a great sound and again is very easy to use.
Although again not the cheapest, they are still less expensive than most studio mics and you don't need the added expense of a recording interface. Highly recommended as my second best USB mic for rap vocals. Check out the Apogee MiC here.
See how easily you can record with thee rap mics below:
Shure PG-27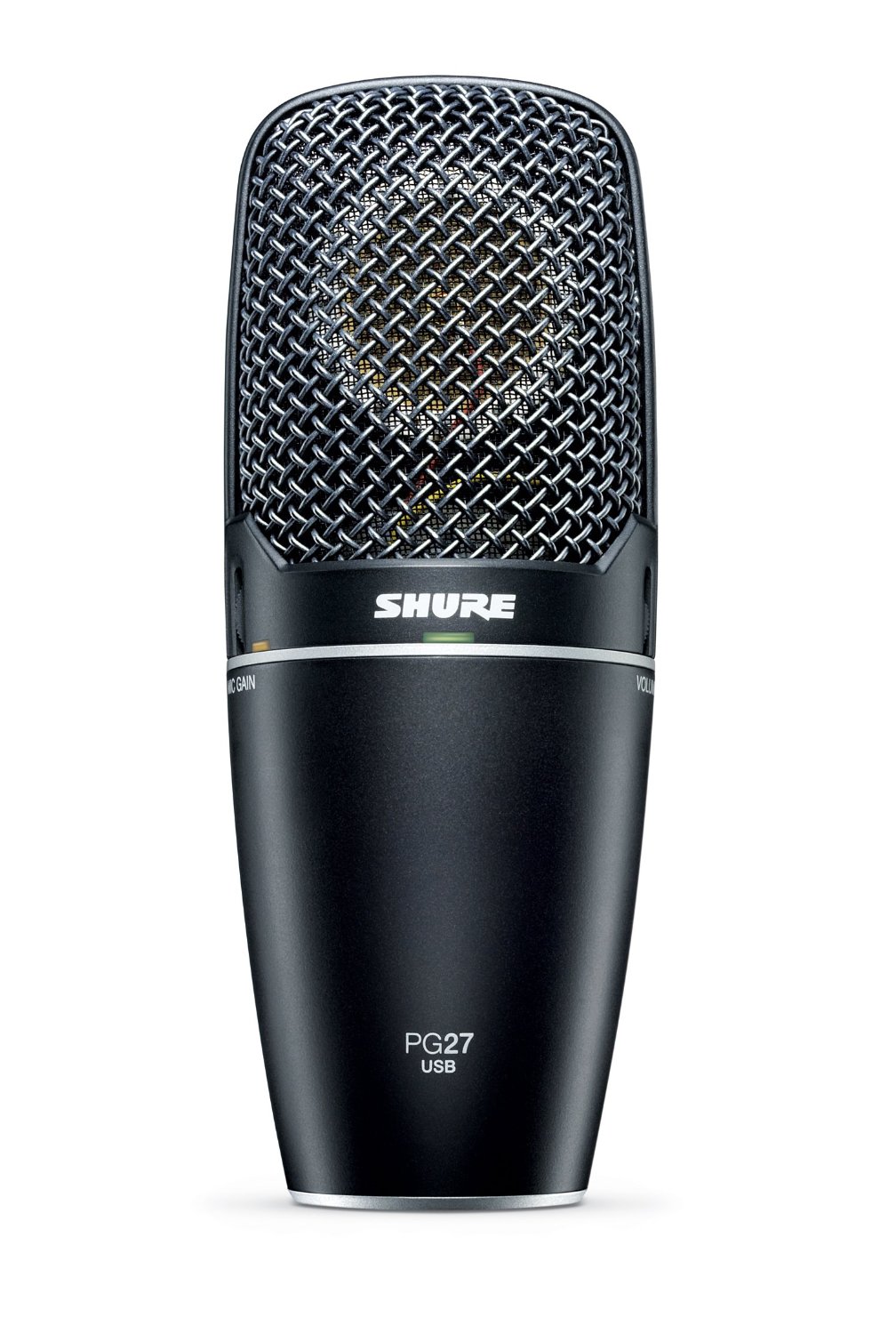 Shure are a quality brand who have put out some of the best and most popular microphones in the world. They are an industry standard brand and you can not go wrong with them. This microphone features a very flat frequency response and also has a gain control and headphone jack for monitoring. It is compatible with Mac and PC but not iPad or iPhone unfortunately. The PG-27 is a great mic and will do anyone well who is starting out recording their vocals. It also works great as an instrument mic too. Check out the Shure PG27 USB Mic here.
Audio-Technica AT2020 USB+

I have reviewed the non-USB version before, and the AT2020 USB+ microphone just as good. Again this microphone has a built-in headphone jack and gain control allowing for easy monitoring and level control to give you a great sounding recording. You can also blend your mix with pre-recorded audio, perfect for ensuring those takes are nice, smooth and on time when doing vocal doubling. You can also get added features such as a tripod as well. This mic is compatible with Mac and PC. What is great about this mic is that you get very little background noise, this is perfect when recording in not so ideal situations. I recommend this mic as another best choice for USB rap mics, you will be very happy with this microphone should you choose to purchase it. Check out the Audio Technica AT2020 USB+ here.
Blue Snowball iCE
I really like Blue microphones, they have a nice characteristic about them as well as sounding great. If you are looking for something that stands out and is unique, then you should really take a look at this microphone. A very retro-looking mic with nothing retro about its features. This microphone is also designed to work very well as a streaming mic (Skype-Certified) so if you need to make Skype calls you will get some great sounding audio.
Available in white or black, this microphone is one of my favorite looking mics. It sounds so clear and crisp, perfect for getting a highly detailed recording.
I also tried one of these on Acoustic guitar and got some great results as well. This is a high-quality microphone that can be used and sound great in a lot of situations. Compatible with both Mac and PC, Check out the Blue Snowball iCE mic here.
Samson Go Mic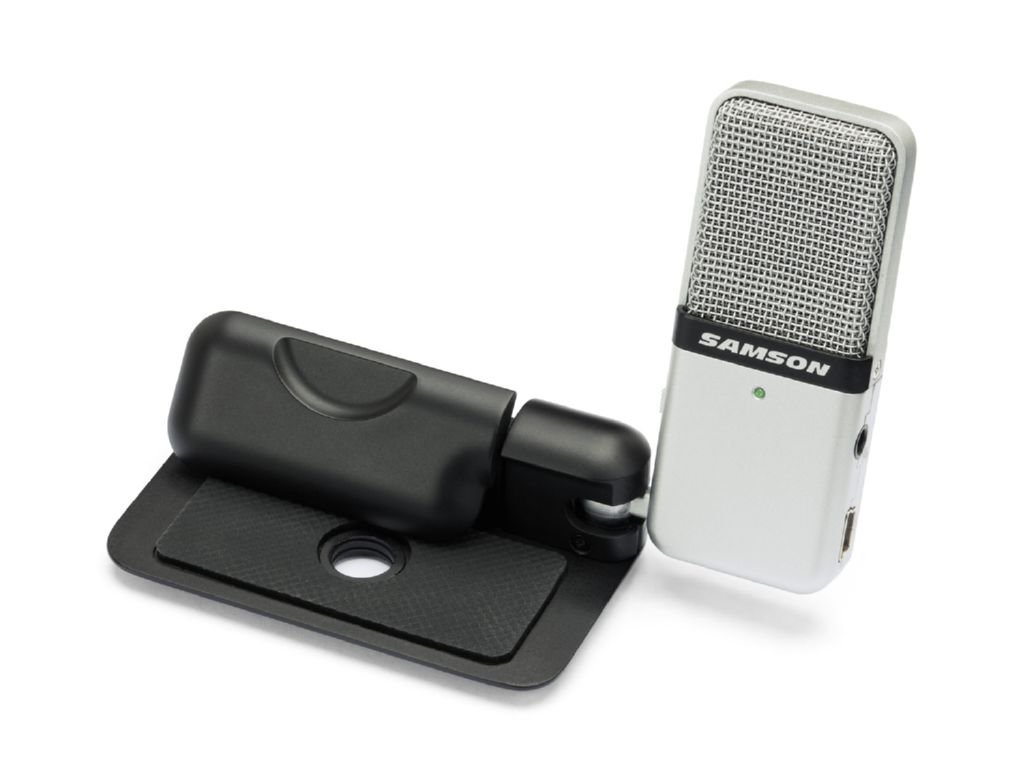 I have reviewed a few other Samson microphones such as the Samson CS1/CS2 interchangeable vocal-instrument mic. They have always surprised me with offering high-quality products at a low cost. The Samson Go Mic is no different. One of the more affordable options in this article, this is probably the best USB mic for rap vocals if you are on a tight budget. Although a budget mic, it still produces a good sounding recording. This microphone works well for podcasting, singing, rapping and instrument recording. It is a small and portable mic which can also clip onto your laptop. This makes it easy to record without needing a mic stand. I recommend this for anyone who doesn't have a lot of cash to spend on a mic but wants a good result. Perfect for beginners starting out getting into recording on a budget. Check out the Samson Go Mic here.
Samson C01U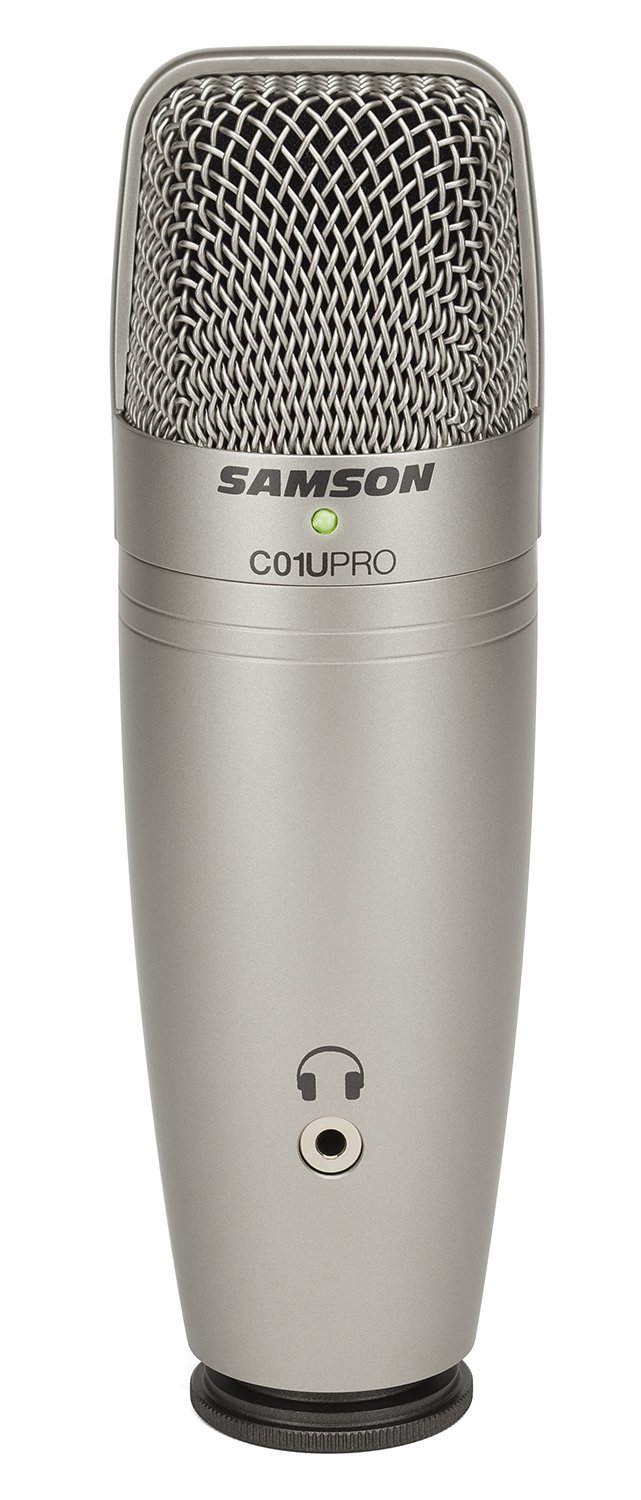 Another great Samson microphone that is both great quality and affordable. Compatible with Mac and PC. This is a perfect USB microphone for those who want a great sounding rap recording without the expense. This mic is great for vocals, rapping, instruments, and podcasts.
It is very versatile and comes with additional recording software for free. The mic sounds bright and warm which allows your voice to stand out in the mix. I recommend this as a great beginner USB mic. Check out the Samson C01U Mic Here.
Conclusion
Anyone starting out recording will do well with one of these USB mics. It may be worth spending a bit more and going for a standard microphone instead of a USB mic. Especially if you are wanting to take your recordings more seriously. However these are some excellent options and in my opinion, I recommend the RØDE NT-USB or the Apogee MiC. These are my choice as the best USB mics for rap vocals.
See more Articles Here: