Red Hot Chili Peppers Dark Necessities Single Released:
Red Hot Chili Peppers Dark Necessities single has now been released, listen to it here and pre-order the album now. After a 5 year break the Red Hot Chili Peppers have announced a new album called 'The Getaway' which is set to be released on June 17. The album has been made available here. Along with the announcement came the release of their first single from the album – Dark Necessities. The song features Flea's signature funky slap bass lines and Anthony Kiedis's clever vocals, and unique staccato singing skills.
After 5 years it appears that they are still able to keep their sound and this song works great as a follow up to their previous album 'I'm With You'. It is well worth a listen and gives you a good taste of what the upcoming album has to come. The Chili's have always released official songbooks for their albums and we expect The Getaway to be no different. As soon as there is news about official sheet music for Dark Necessities and The Getaway, we will make an announcement so be sure to sign up to our newsletter. View the Track list and tour dates at the bottom of this article.
"We've been writing new music for the last year, and we've written some songs that I feel are as good as any songs we've ever written. We're just dying to play the new songs – but we can't, because every single human has a recording device on them at all times."

Anthony Kiedis.
The new album has been produced by Danger Mouse and Anthony has praised his skills as a producer saying that he is always stripping songs down to their acoustic structure. He is also reported to be good at showing them creative and modern ideas. This is a big change from their usual producer Rick Rubin who has worked with them for a long amount of time – 27 years producing many albums for them. The song was also mixed by Fleas good friend and Radiohead producer Nigel Godrich.
The album art for The Getaway is another unique piece which was inspired by the Jungle Book, featuring a large bare and a little girl. Another hint that suggests this is the song title Dark Necessities that may also be a reference to The Bare Necessities from the Disney film.
Elton John Collaboration With The Getaway Album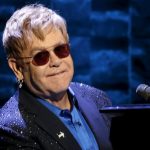 Another interesting fact is that the Pop and Rock legend Elton John has collaborated with the RHCP's on a song for the album. It has been told that Anthony Kiedis convinced the singer while in Los Angles which is very exciting as they have always been big fans of Elton John. It will be interesting to hear what comes out of the collaboration.
"Anthony got in touch when he heard Elton was in town at the start of the year, and asked him to come down to the studio where they were recording. They were delighted when he said yes. The track they've done together is really great."

Unknown Source.
The track list has been released and you can view it below as well as tour dates that have recently been scheduled for the record.
Click here to Order The Getaway
Fan Mashup of Dark Necessities
Already a fan has decided to mash up the song Dark Necessities to include former guitarist John Frusciante. It features guitar parts played by him from previous hits. Listen Below.
Track list:
The Getaway
Dark Necessities
We Turn Red
The Longest Wave
Goodbye Angels
Sick Love
Go Robot
Feasting on the Flowers
Detroit
This Ticonderoga
Encore
The Hunter
Dreams of a Samurai
Tour Dates:
05-22 Columbus, OH – Rock on the Range
05-29 Napa Valley, CA – BottleRock
06-03-05 Mendig Airfield, Germany – Rock am Ring
06-03-05 Nuremburg, Germany – Rock im Park
06-08 Interlaken, Switzerland – Greenfield Festival
06-10 Landgraaf, Netherlands – Pinkpop
06-10-12 Nickelsdorf, Austria – Novarock
06-29-07-02 Roskilde, Denmark – Roskilde Festival
06-30-07-03 Gdynia, Poland – Open'er Festival
07-02 Werchter, Belgium – Rock Werchter
07-06 Kiev, Ukraine – U-Park Festival
07-09 Moscow, Russia – Park Live
07-10 Perthshire, Scotland – T in the Park
07-15 Ottawa, Ontario – Ottawa Bluesfest
07-16 Québec City, Québec – Festival d'été de Québec
07-22-24 Yuzawa-cho, Japan – Fuji Rock Festival
07-22-24 Jinsan, South Korea – Valley Rock Festival
07-29-31 Montreal, Québec – Osheaga Festival
07-30 Chicago, IL – Lollapalooza
08-25 Belfast, Northern Ireland – Tennent's Vital
08-26-27 Reading, England – Reading Festival
08-26-27 Leeds, England – Leeds Festival
09-01 Budapest, Hungary – Sports Arena
10-05 Zurich, Switzerland – Hallenstadion
10-08 Bologna, Italy – Unipol Arena
10-10 Turin, Italy – Pala Alpitour
10-13 Montpellier, France – Parks and Suites Arena
10-16 Paris, France – Accor Hotels Arena